Tag: Justice League Of America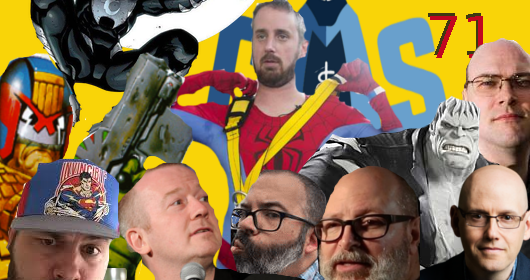 We pair Writers and Artists together to do our bidding on the property of our choosing! How diabolical!
Continue reading »
What happens in a Russian time loop and who is the most powerful being in the DCU? It isn't Superman in this "thrilling sequel"!

Ruin A Comic Episode 3, Red Son
[ 14:16 ]
Play Now
|
Play in Popup
|
Download
(69)
Continue reading »
The comfort of the "Snoozecast" finds us in great spirit as we talk losing time to watch Daredevil, Batman V Superman critic reviews, Voltron, and that pesky Rebirth event at DC Comics. Sponsored by The Comic Book Store, 30 N. Main St. Glassboro NJ! Tim is @Mad_Dog_Tim Rashid is @TooManyCheetos Lou is @HighCouncilRock CapesAndScowlsPodcast.com CapesAndScowlsPodcast@gmail.com We are on YouTube, iTunes, and […]

"#HashtagFingers", CAS Episode 35
[ 57:54 ]
Play Now
|
Play in Popup
|
Download
(372)
Continue reading »